A Successful Second Year...
The 2nd annual Wings Over Piper event, sponsored by Wings Of Williamsport, was held August 6, 7 & 8, 2004 at the historic William T. Piper Memorial Airport, Lock Haven, Pennsylvania. The eventís primary sponsor was by Balsa USA with secondary sponsorship from Horizon Hobby. The weather was beautiful with a slight breeze conducive for wonderful flying. By noon on Friday there were already 20 plus registered pilots taking to the air. The opening ceremony was held at 9:00 am Saturday with the singing of the national anthem and a formation flyover of three full size J-3 cubs. Lock Haven city mayor Richard Vilello spoke during the ceremony, welcoming the visitors to Lock Haven and thanking all for coming. Several full-scale Pipers and other aircraft came to the event during the day and were displayed by their owners. Later that afternoon there was a special appearance by William T. (Bill) Piper Jr. Bill, at 94 years young, with a charming smile and personality was overwhelmed at the turnout of pilots and planes. He spent several hours at the event mingling with pilots and spectators and signing autographs. Shuttle trips to the Piper Museum were offered throughout the day along with guided tours of the museum. The turnout of Piper Cubs was terrific, even though the event was not limited exclusively to Piper Cubs. Approximately 2500 people attended the event, doubling the attendance from the previous year. The registered pilot list reached nearly 50 flyers from 10 different states with many camping on grounds or staying at the local hotels.
Lots of Cubs...
One of the highlights of the event was a 1/2 scale J-3 cub on display. The cub is currently in the bones and being restored by Don Nuss, one of the club members, and will be put on display at the Piper Aviation museum when completed.
There were plenty of 1/3 and 1/4 scale Cubs along with 60 and 40 size and even a few electrics on hand all weekend. Pilots with aerobatic planes, war birds and a variety of other planes also came to the event.
Paul Shafner and Jerry Mc Callum, both from Md. attended the event for the second time and flew 1/3 scale Balsa U.S.A. J-3 cubs. At last years event they flew a beautiful routine together set to music but were unable to this year due to battery problems. We hope they get that fixed for next year!
David Fepelstein from Gaithersburg Md. also wowed the crowd with several flights with a beautifully finished 1/4 scale p-51 mustang powered by a ZDZ- 80. Dave mentioned that next year he would half to have a cub to bring along as well. We thought maybe he could just paint the mustang cub yellow!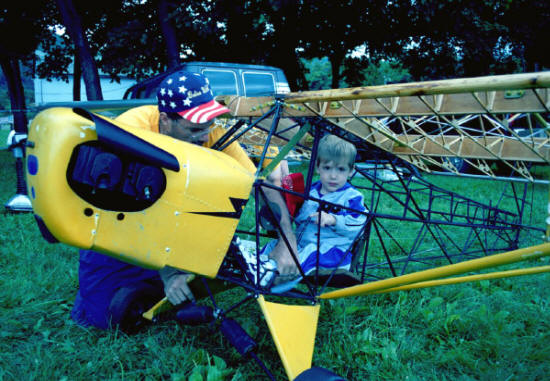 Casey Zeigmann sits in 1/2 scale Piper Cub with father Kevin.
Plenty to do, plenty to take home...
Local hobby stores set up booths and supported the event by donating items to be raffled off. Several product vendors with aircraft related items including the Piper souvenir trailer also participated in the event. There was even a craft show (for the ladies) to buy some of the local artists wares. There was plenty of great food available supplied by local food vendors on site. A raffle was also held during the weekend for a ride in a full-scale Albatross jet piloted by Lee Gilbert and J-3 cub piloted by Ray Gorham both based at the Lock Haven Airport. Pilots participating in the event were given prizes from the sponsors. Several awards in different categories were also presented to the pilots.
A bright future and a rich heritage...
Wings of Williamsport Flying Club anticipates that the Wings Over Piper event will continue to grow each year as it offers an unique opportunity for modelers to gather and fly at the historic Piper airport. The flying club has approximately 70 members. Club President and founder of the event Hal Lusk, is very proud of the members participation in making the event a success. Lock Haven city council and the Piper airport are extremely supportive of the event. They look forward to the event continuing annually. Wings of Williamsport wishes to thank the members of Sentimental Journey for all of their support. Sentimental Journey is an annual full-scale Piper Fly-in held every June. At this event J-3 cubs and other piper aircraft return to their birthplace, the William T. Piper Memorial Airport, for a weekend of reminiscing and sharing their love of Piper aircraft.
Plans are being made for next yearís event scheduled for August 5, 6, and 7, 2005. With a facility as nice and as the Lock Haven airport and the picturesque valley in which it is located, Wings Over Piper is sure to become one of the most popular events on the East coast. What a great opportunity to gather and fly at such a historic place. Although the club encourages the gathering and flying of as many piper aircraft as possible, the event is open to all type of rc aircraft. Make plans now for the 2005 event and share in the memories and history of Piper.
We love Wings Over Piper...
Feedback following the event indicated that a great time was had by everyone:
We had an enjoyable time this weekend. Your hospitality was exceptionally great. Your event will continue to grow....
-- Chris Dascano
Just a short note of thanks for the great flying this past Friday and Saturday. I had a great time and will be back next year.
-- Doug Harper
Thanks for providing a nice Sunday afternoon for my son and me. I stumbled across your Wings Over Piper web site and decided to take my two year old to watch some airplanes. We really enjoyed the RC planes - and the occasional "real" airplane was an extra treat. A very nice man, whom I assume was from the Wings of Williamsport Club, gave my son a toy airplane. It kept him occupied for well over an hour and allowed me some extra time to watch the air show. We bought a few things at the craft show and shared the biggest and cheapest ice cream cone that I've seen in a long time. Everyone we spoke with was really nice and friendly. Hopefully you are planning a 3rd Annual Wings Over Piper. If so, I'll return and bring a few extra people with me.
-- Gail Durachko
Just wanted to let you know that I had a great time at this yearís event. My electric powered sport and pattern models were certainly in the minority in terms of power systems in use, but they earned the respect of other pilots and the spectators. I was pleased that your announcer recognized the quiet flight aspect of these models and made a point of informing the crowd. I also wanted to thank the volunteer spotters who came to the aid of this solo pilot on the flight line.
-- Roy Thompson
Thanks to...
Wings of Williamsport would like to thank all of the members and their families that helped to make the event a tremendous success. Due to the large number of people involved in this event, it is impossible to list everyone individually. Though the members' names do not appear here, the event would not have been possible without all of their hard work.
In addition to our members, we wish to thank the following organizations:
The City of Lock Haven

The William T. Piper Memorial Airport and its employees

Sentimental Journey to Cub Haven

The full scale pilots who call Lock Haven home

The Piper Aviation Museum and its employees

The Central Pennsylvania All-Terrain Vehicle Association