Introduction
Wings of Williamsport held its first annual Wings Over Piper fly-in August 8, 9, & 10, 2003 at the
William T. Piper Memorial Airport, Lock Haven, PA. This was the first R/C event ever held at the
home of the Cub. Despite the tropical front that stayed in the area the entire week, flyers from as
far away as Long Island still came to be a part of this inaugural event. There were flyers there
from several states including Pennsylvania, Maryland, Delaware, New Jersey and New York.
Many of the flyers camped or stayed in local hotels for the weekend. Even though the
surrounding areas received rain the entire weekend, the fly in remained dry. This allowed for
plenty of flying time. Approximately 1500 people attended this first annual event over the three day period. To see pictures from the 2003 Wings Over Piper, click here.
Event Highlights
The event started Saturday morning with a ribbon cutting ceremony by the Lock Haven city
manager, Richard W. Marcinkevage. A few of the city council members were also in attendance.
This was followed by the Star Spangled Banner. Club President Hal Lusk thanked the city of
Lock Haven for it's support of the event. Mr. Marcinkevage thanked the club for putting the
event together and for supporting the heritage of the William T. Piper Memorial Airport.
Following the ceremony the skies were filled with Cubs. Although this event is not limited to
Cubs, they were there in full force, including military, third scale, quarter scale, 60 and 40 size as
well as electrics. There were approximately 50 Cubs in all. Throughout the day there were solo
aerobatics set to music as well as free style flying. Joy filled the air as flyers had their chance for
the first time in history to fly their Cubs at the home of the Piper Cub. One of the highlights of the
weekend was a pair of third scale cubs flown by Paul Schaffner and Jerry McCallum flying in
tandem set to music. They performed gracious wing overs, loops, rolls and flat turns as only a
Cub can. Frank Swinehart Jr. flew his father, Frank Sr.'s full scale J-3 to the delight of the
audience and landed for a photo opportunity with the R/C Cubs. Flying did not stop til the sun went
down.
Special Guest Appearance
William T. "Bill" Piper Jr. came to this first annual event. At 92 years young he was delighted
with what he saw. His father William T. Piper, founder of the Cub, instilled the love of aircraft in
Bill Jr. and you could see it in his eyes as he watched the models gather. Following a photo
session with the R/C models and the full scale Cub, Bill was surprised when the modelers and public
lined up to get his autograph. He was gracious and signed everything from hats and shirts to
airplanes. After about an hour of signing Hal Lusk, President of Wings of Williamsport tried to
coax him out of the hot and humid air into an air conditioned camper. Mr. Piper replied, "I spend
a lot of time in Florida, and this is a cool day for me". We felt very blessed to have had Mr. Piper
attend our event. It was a day that I am sure Mr. Piper will not soon forget, nor will we.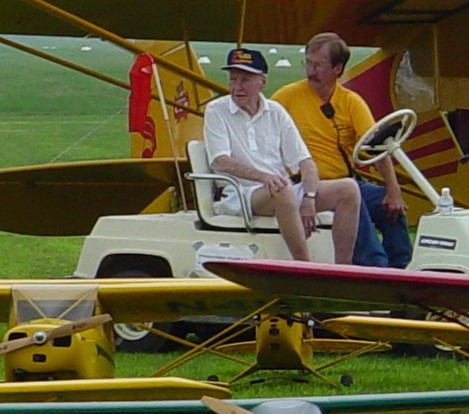 Bill Piper Jr. surveys the collection of Cubs
Visitor Impressions
The following is a small sample of the feedback we received following the event:
A big thank you to the Williamsport club and all of the club members that put on the wings over Piper. Mike and John Scherr, Carl Catino and myself attended on Saturday and had a great time. We got in lots of flying, and I already developed my group pictures of all of the Cubs including the full size with Mr. Bill Piper. The food that the Lion's provided was excellent, and we toured the Piper museum a little before closing. That was a great runway with plenty of room for takeoff and landing, and I know from talking to one of your members that it took some mowing and rolling of the area for about a month before the contest dates. A terrific job overall. Again, thanks and I know from helping at other meets that it takes a lot of work to have an event like that.
-- Randy Kern
Good Morning,
I just want to take a moment to thank you again, Joel Happ and myself had an absolutely wonderful time out there on Saturday and we will plan on coming back next year. The weather held off and we got in 14 flights with the Clipped Wing Cub we had. Even though it was a long drive it was well worth it. GOOD JOB, look forward to it again next year.
-- Lewis Schwabb
Thanks to...
Wings of Williamsport would like to thank all of the members and their families that helped to make the event a tremendous success. We would especially like to recognize the following people:
General Arrangement: Hal Lusk

Camping and Facility Setup: Phillip Good

Flea Market: Rick Christian

Flight Line Control: Kevin and Werner Ziegmann

Registration and Inspection: Don and Gayle Nuss

Field Maintenance: Larry Green/ Rick Christian/ Don Willits

Marketing: Mike Steele / Jackie Ziegmann / Lou Yerger

Food Vendors: Gary Jackson / Steve Pisarski

Full Scale Flight Communication: Gary Smith

Photography: Tom Crocker

Awards: Chad Lossell

Admissions: Phil Eisner

Parking: Gene Good
In addition to our members, we wish to thank the following organizations:
The City of Lock Haven

The William T. Piper Memorial Airport and its employees

Sentimental Journey to Cub Haven

The full scale pilots who call Lock Haven home

The Piper Aviation Museum and its employees